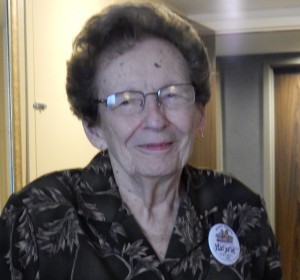 Marjorie Keiser, a member from Omaha, Nebraska, joined the club in 1991 and right away became an active member. She attended the 1991 national convention, Shakerfest '91, in Schaumburg, Illinois. Marjorie entered the large display contest and won third place. But that's getting ahead of her shaker story.
When she was 13 years old Marjorie went to her mother's club to play bingo and won a pair of green glass shakers. A lady there suggested she start collecting shakers and that's exactly what she did. By the time she married Ed Keiser in 1952 she had 150 shakers!
Marjorie collects all types of shakers but especially likes minis, condiments and Rosemeade. She is very close to 10,000 sets in her wonderful collection and has probably already met that impressive benchmark as you read this article.
She is well known for her fabulous, award-winning displays she creates every year at convention. In fact, she has attended every convention since 1991 and has entered one of the display contests ever single year.
The display she entered in the 1991 Large Display Contest was entitled "My Life Story". It depicts her life in shakers – her life as a teacher, her marriage, her son and daughter (Kay is also a club member), her travels, and her love of music. It is still on display in her shaker room at home, as well as her many displays she has created over the years.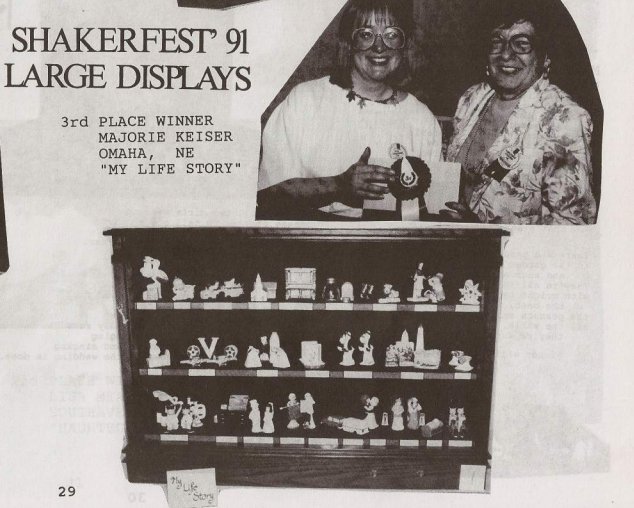 Photo courtesy of the August, 1991 Club Newsletter.
The following are samples of some of her award-winning contest entries. Note the attention to detail in each entry (you can click on each photo to enlarge them for a better view). So much thought, planning and time went into each display.
During the 2014 convention she invited members to her home to see her mammoth basement shaker room.  It was definitely a treat.
Heartland Chapter Members
Marjorie and Ed are original members of the Heartland Chapter where they enjoy the many friendships they've made over the years.
Why does she go to convention every year? Per Marjorie, "it's the best place to get hugs!"