The club started in 1983 and was originally called the Salt Shaker Collectors Club. Membership consisted of both antique and art glass single shaker collectors and novelty and figural shaker collectors.
As the club grew it became difficult to support two entirely different fields of collecting so at the 1987 convention it was decided to split the club membership into two clubs —  the Novelty Salt and Pepper Shakers Club and the Antique and Art Glass Salt Shaker Collectors Society, now called the Antique Glass Salt and Sugar Shaker Club.
The "new" novelty shaker club quickly elected officers, started a newsletter and continued the tradition of an annual convention with a commemorative shaker.
Membership now includes collectors from 48 states plus Canada, Australia, New Zealand, Belgium, England, Germany, and The Netherlands.
We are a 501(c)(7) organization. Bylaws available upon request.
1989 Executive Committee
Larry Carey, Joyce Fisher, Irene Thornberg, Melva Davern, Sylvia Tompkins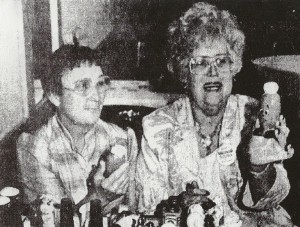 Irene Thornberg & Sylvia Tompkins
Interesting Tidbits of Club History
1983
Year the Salt Shaker Collectors Club was founded
1986
First national convention, hosted by Marilyn & Chub Lockwood
At convention, there was an auction (all proceeds to the club), a Saturday night dinner, and a commemorative single shaker was unveiled
1987
At the second annual convention in Pittsburgh, PA it was decided to split the club into two groups – one for antique and art glass single shakers and the other for novelty shakers.
The Novelty Salt and Pepper Shakers Club was born with approximately 175 members
Sylvia Tompkins became the first Newsletter Editor
Dues $15 per year, $20 per year overseas
Club logo designed by Norma Montaigne
First newsletter published in December. It contained a ballot for club officers.
1988
Election Committee met at Hubert & Clara McHugh's home in January.
First club officers were announced – Melba Davern (President), Hubert McHugh (Membership Coordinator), Clara McHugh (Treasurer)
Norma Montaigne makes name badges for convention attendees, the first of many, many years
Michigan Chapter, the first regional chapter, was formed
50/50 auction was introduced at Convention
1990
Vice President's position added to the Executive Committee. Sylvia Tompkins is the first Vice President.
Dual membership for 2 persons living at the same address started
First membership contest recognizing the collector and the collector/dealer who has recruited the most new members started
1991
Club signs 1000th member
Midwest Shakers Chapter is the first chapter to host a convention
1992
Shaker Costume Contest was introduced at the annual convention this year held in Burlington, VT
1993
Our first European member from a country other than England (Belgium) joined
Prodigy Chapter was formed bringing the club to the information age. (Prodigy was an on line service provider).
1994
A special hand-crafted set of "The Owl and the Pussy Cat" in a light green boat sold in the convention auction for a record-breaking $5,000. It was made by Betty Harrington, 80, a retired major designer for Ceramic Arts Studio and special guest at convention that year.
1997
Email addresses appear in the Membership Roster for the first time
2-year membership dues becomes available
Lula Fuller, Membership Coordinator, advertises our club on her personal "internet home page" and gets a great response
A newsletter article describes how to shop on the internet!
1998
1st international chapter formed – Queb-Ont Chapter, Canada
1st Lifetime Achievement Award – winner Sylvia Tompkins
1999
A Club web site on AOL was designed by Webmaster Ilo Hiller
2004
Auction Committee Chair position created – Larry Carey is the first to hold this position.
Junior Membership program developed by then President Cindy Mott with input from the Executive Committee
The first Junior Member, Andrea Croschere, joined June, 2004
Junior News, a newsletter for our Junior Members, is developed by President Cindy Mott
Club's gets new website address saltandpepperclub.com by Webmaster Tracy Nader
An Email version of the Membership Roster is offered by Membership Coordinator Louise Davis
2007
Standards and Procedures (S&P), a manual of the day to day operations of the club, was created by Pat Yedlin
2010
Shoebox display contest was introduced at convention
To commemorate the 25th annual convention, the club gave a special 25th Anniversary Convention set to all Primary members
A color version of the Newsletter is available electronically
Club dues can now be paid on line via PayPal
Email only membership type is introduced
Patti Ring is the first to join the club using the club's online Membership Application and the first to sign up for Primary Membership by E-Mail
2011
A Club Facebook page is created by President Brenda All
2017
Club creates Instagram account and appoints PR Coordinator position.
2018
2019
New Club logo is introduced.
2020
Annual convention canceled due to the Covid-19 global pandemic.
2021
New member welcome kit introduced.