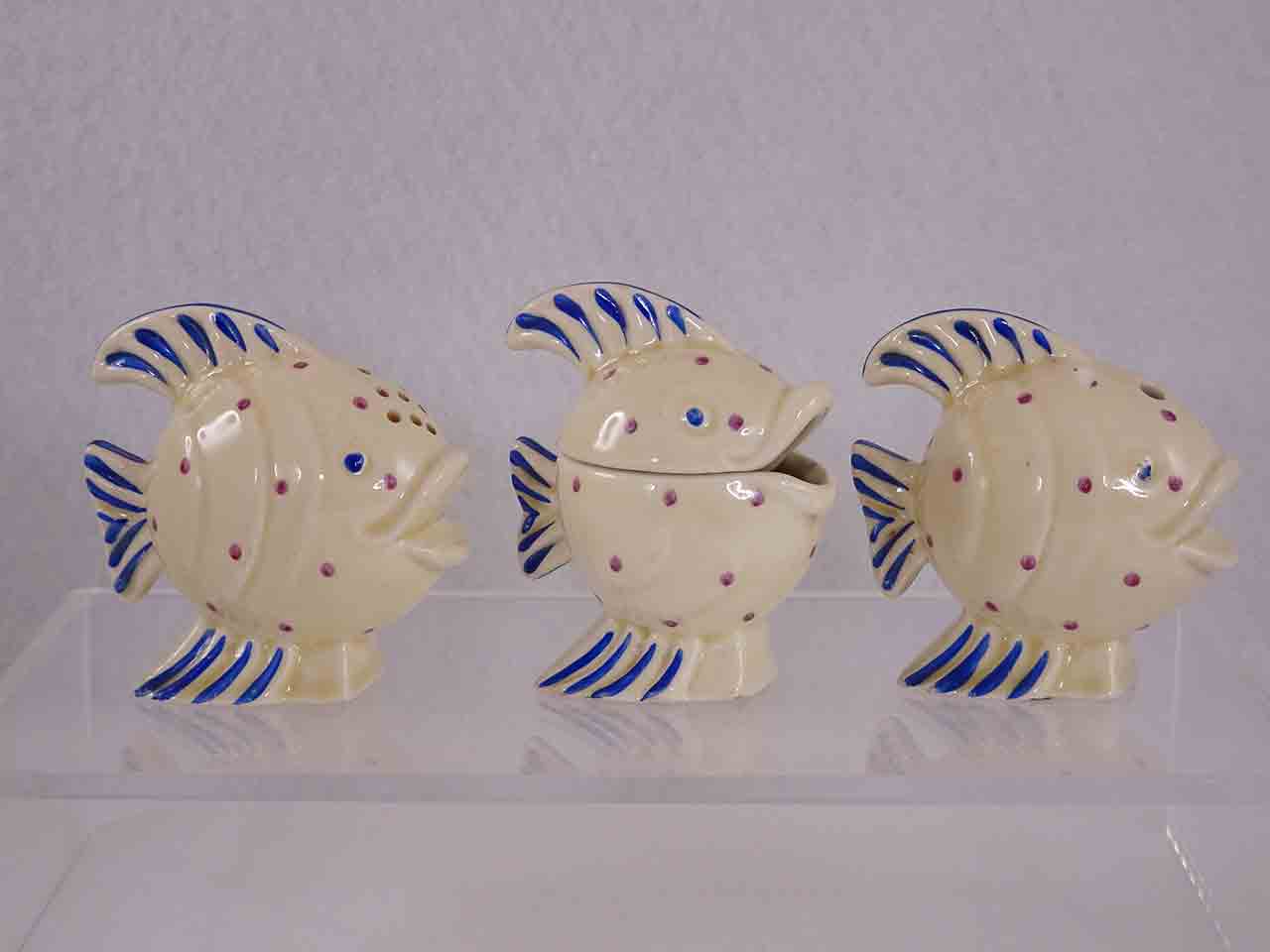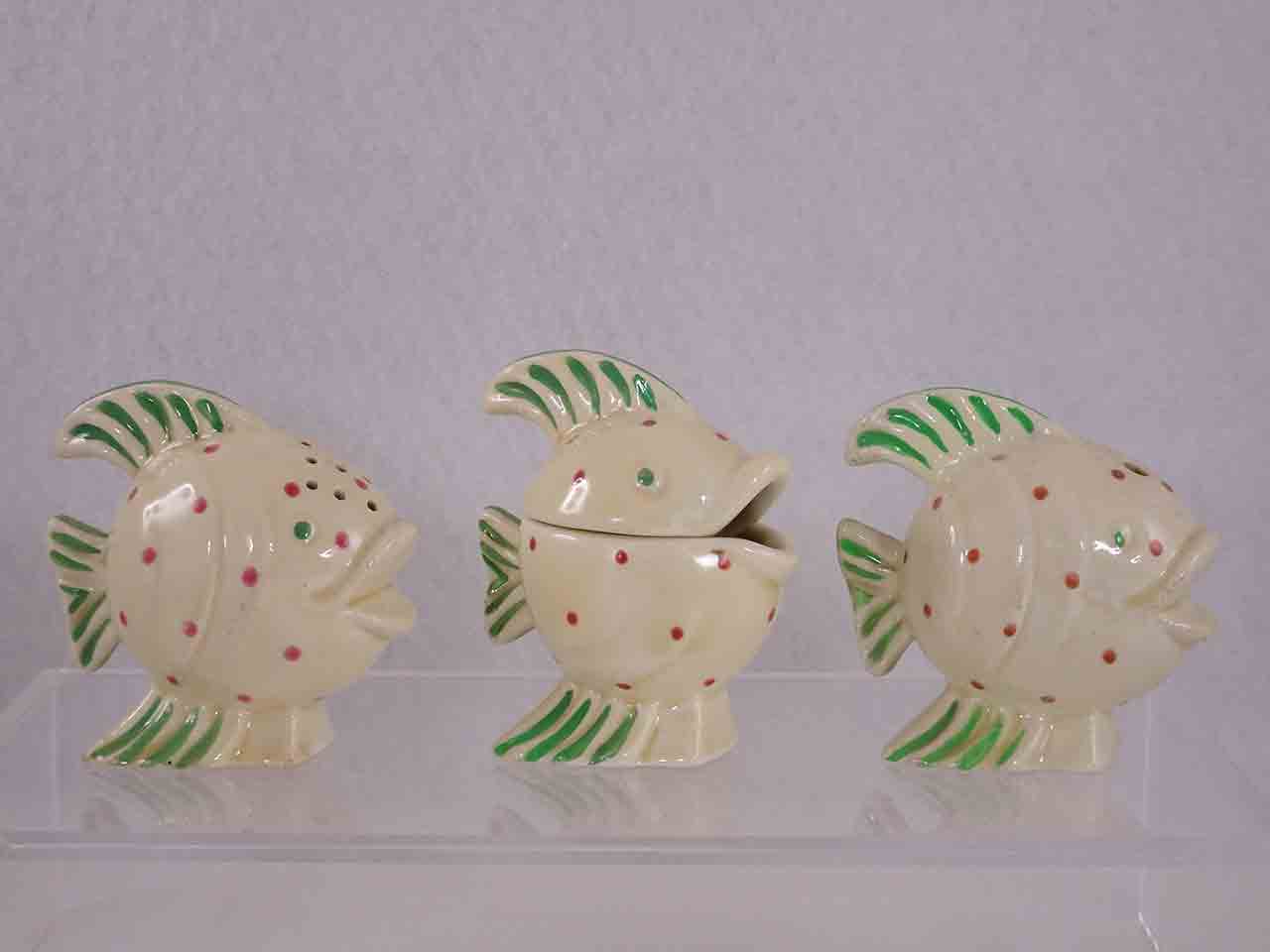 These fish condiment sets are stamped "Wilkinson Ltd England".  Arthur J Wilkinson (Ltd) was a manufacturer of earthenware and ironstone at Royal Staffordshire Pottery (previously at Central Pottery), Burslem between 1885 - 1964.  The famous Art Deco designer Clarice Cliff worked at this pottery.  These sets are often attributed to Clarice Cliff, but none of these sets are marked with her name.
As you can see, these fish condiments came mostly in two different styles (depicted above and below) - with and without dots.  If you see this set out "in the wild" you might wonder whether it's missing a tray, but after you find 7 sets without a tray you can be pretty confident this set does not have a tray.
The fish have 9 and 1 pour holes - which is a common pour hole pattern of England pottery S&P shakers in this era, circa pre-WWII.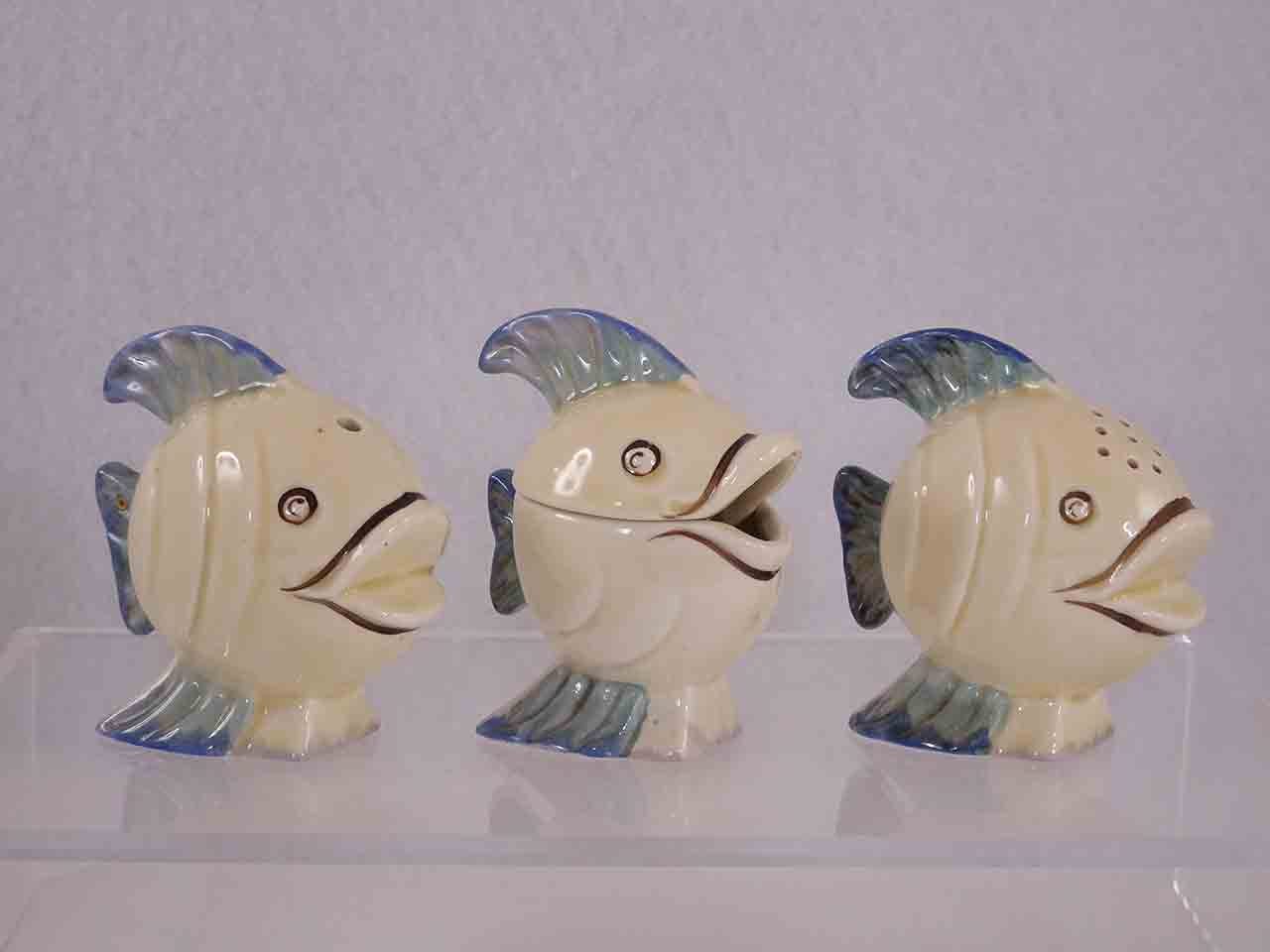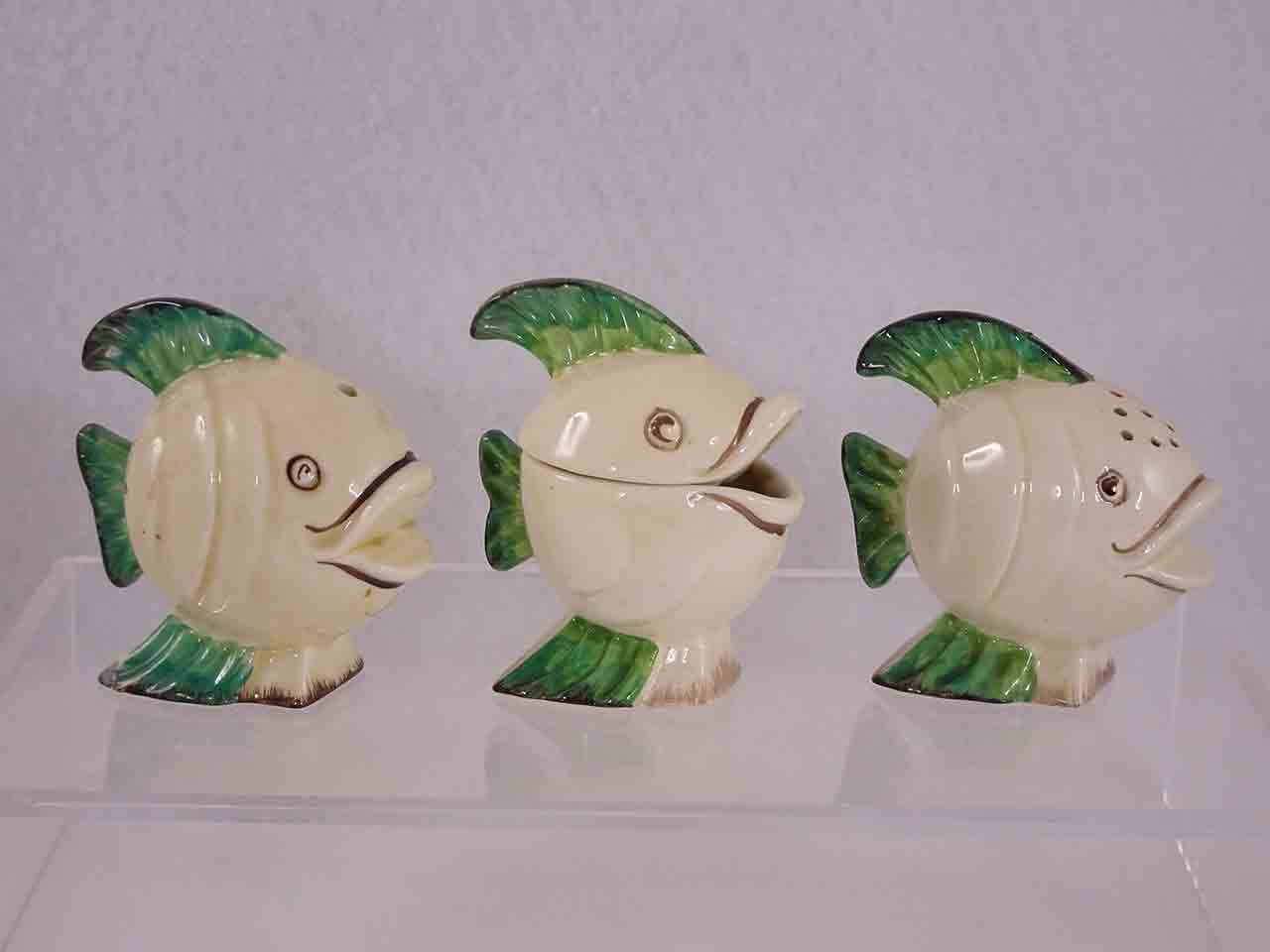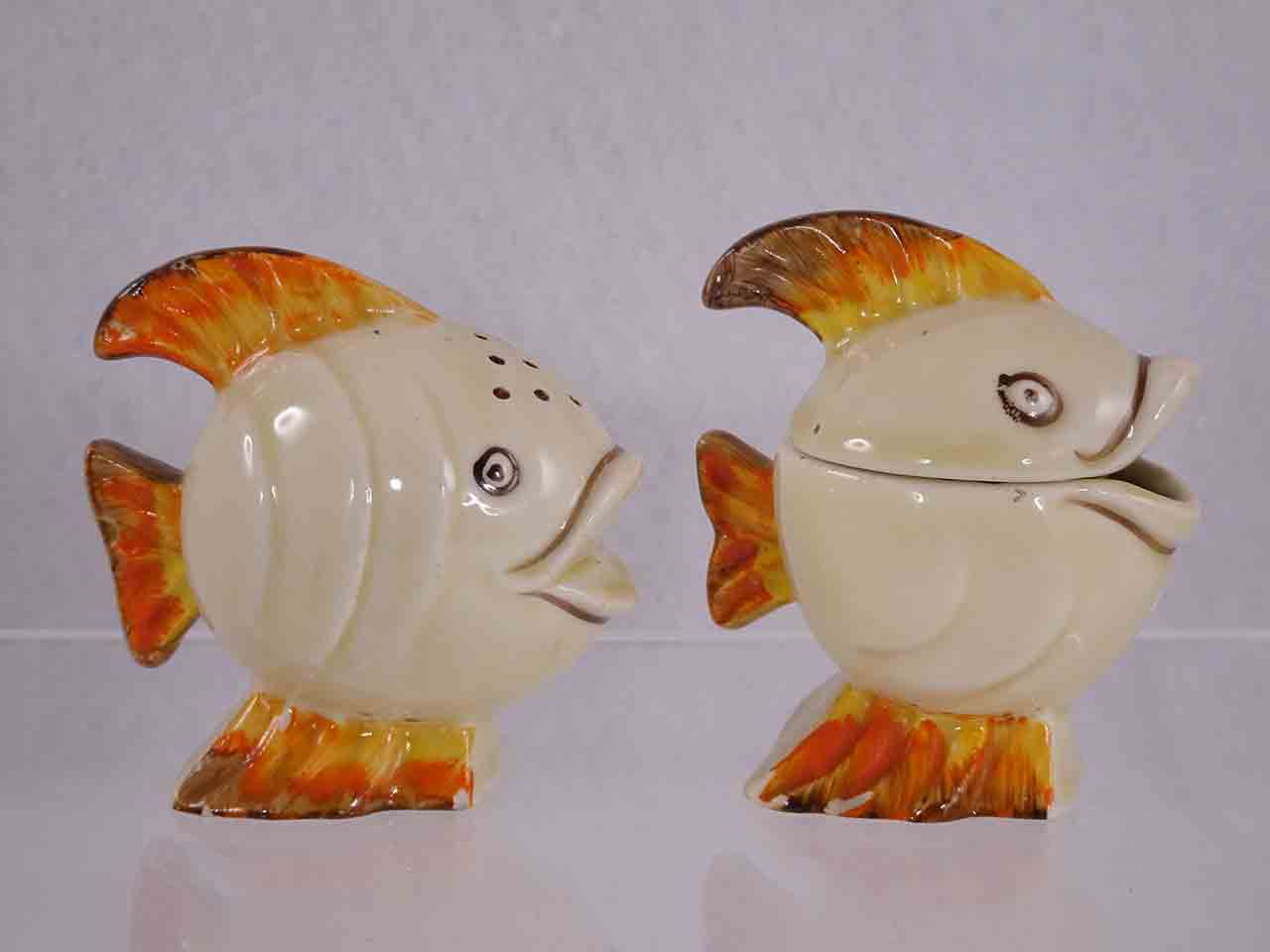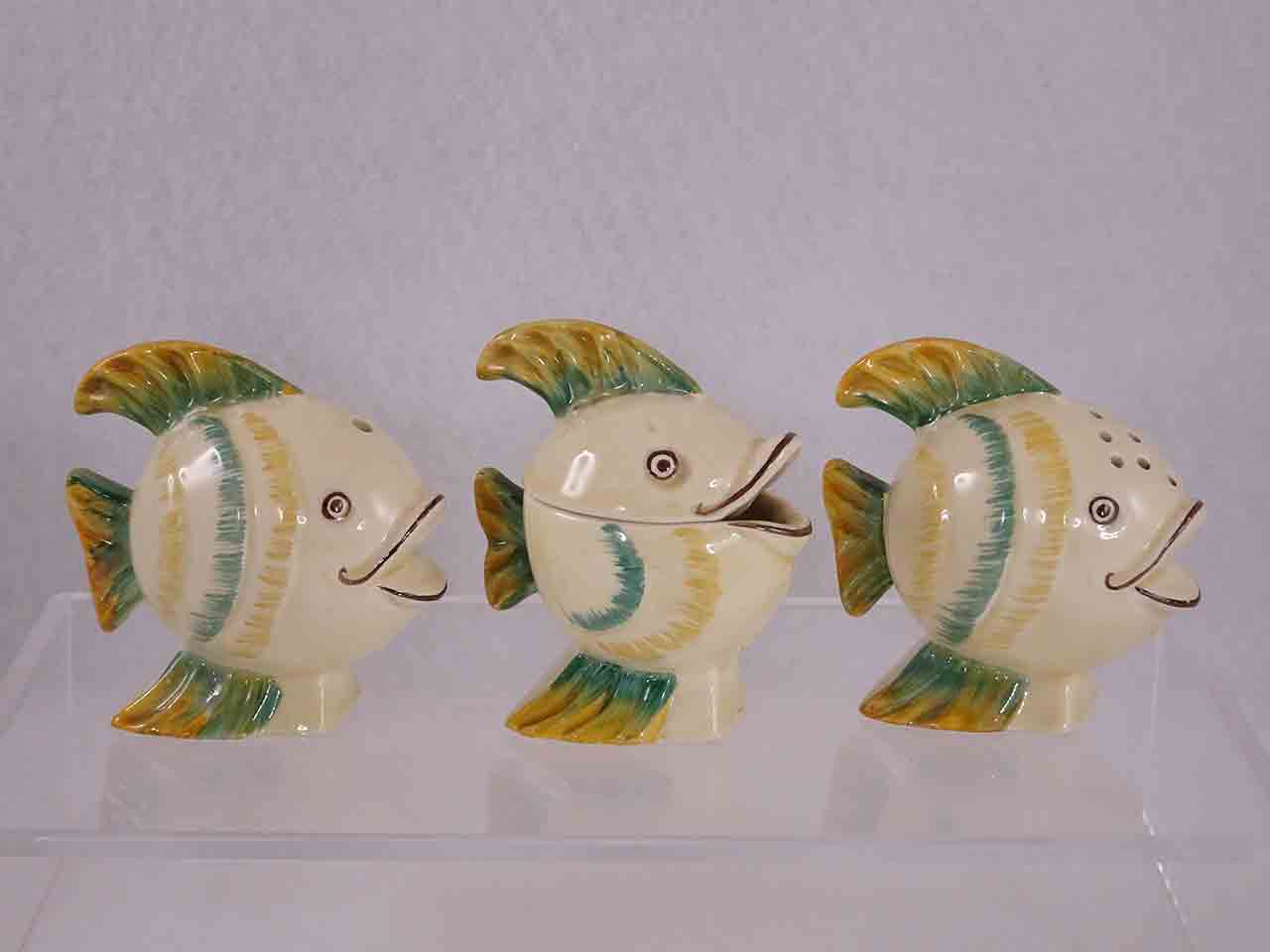 An unusual color variation
Addition information about the Wilkinson Ltd pottery company
Earthenware and ironstone manufacturer at the Royal Staffordshire Pottery (and formerly at the Central Pottery), in Burslem, Stoke-on-Trent.
In 1881 the old Central works in Burslem passed into the hands of Wilkinson & Hulme.

1885 - Hulme retired from the business and Arthur J. Wilkinson continued on his own. 

A. J. Wilkinson was the brother-in-law of Arthur Shorter who was a partner in the pottery manufacturing company Shorter & Boulton. 

In 1891 A. J. Wilkinson died in an accident and Arthur Shorter was asked to manage the A.J. Wilkinson pottery in Burslem the name A. J. Wilkinson was retained. 

In about 1896 the company took over the Royal Staffordshire Pottery, Burslem and soon left the old Central works.

c.1896 the business was incorporated and marks after this date have 'LTD' in the name. 

A few years later Shorter bought the firm and in then in 1898 Arthur's son Colley joined him. His younger son Guy, who became manager at Shorter's in 1900, joined his father and Colley at Wilkinson's in 1905.

The two bothers, Colley and Guy Shorter were made directors of Wilkinsons in 1916.

1916 - at the age of 17 Clarice Cliff (who became the famous "Bizarre Ware" designer) started work at at Wilkinson - previously she worked for Hollinshead & Kirkham.

 1928 the handpainted Bizarre Ware was launched.

With the outbreak of World War II in 1939, creative output of the factory ceased, with much of the workforce being drafted into the Armed Forces. Wartime restrictions on decorated pottery were to continue into the 1950's and the factory was never to produce pottery in the style or quantity of the pre-war period.

In 1964 Colley Shorter died. Clarice Cliff-Shorter disposed of the family shares in Wilkinsons and Newport to the neighbouring Midwinter Co. who wanted to expand production.