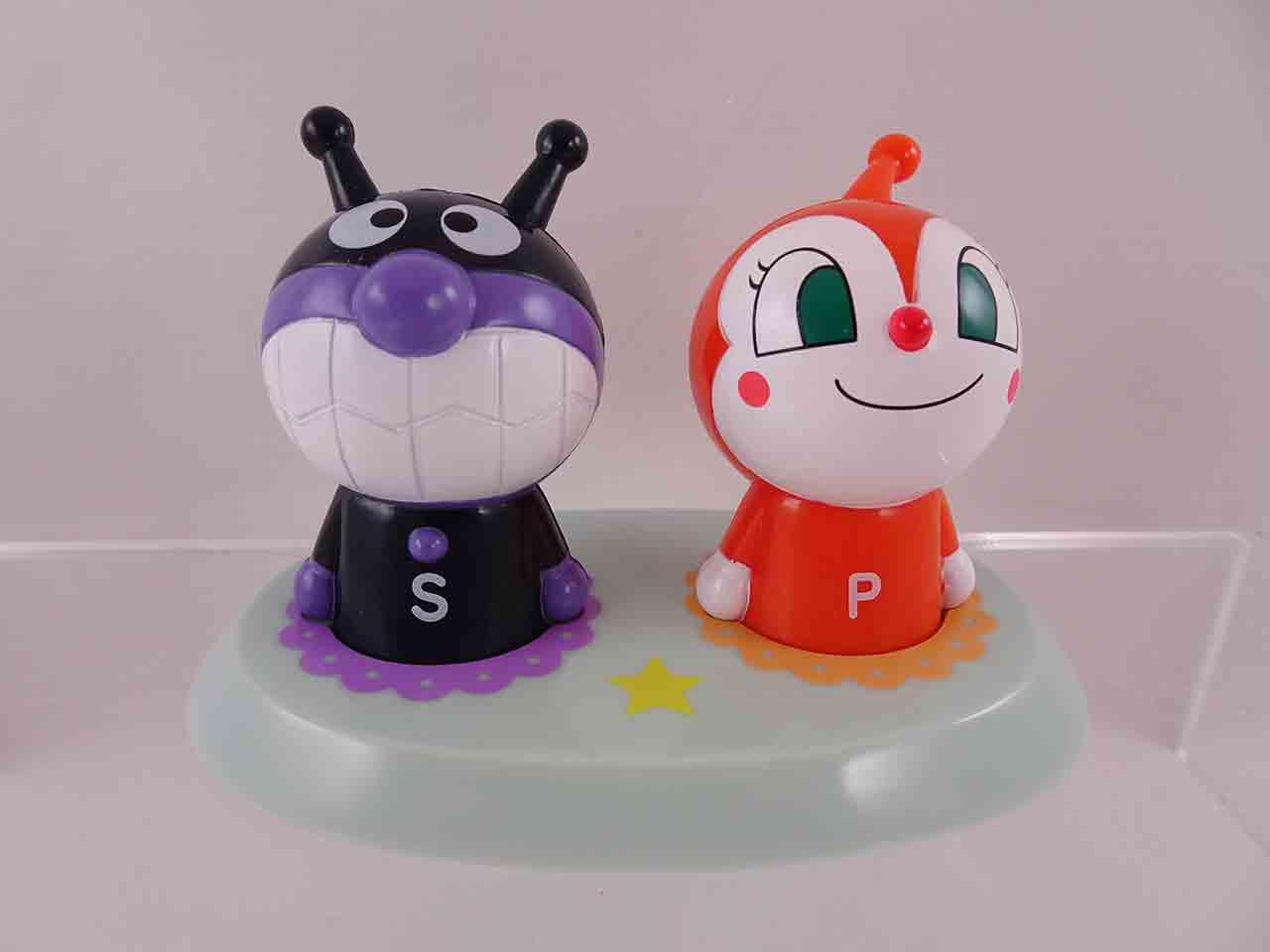 This plastic set of cute cartoonish type characters on a plastic tray are actually anthropomorphic germs from a very popular Japanese story book / Anime.  The sets is marked "Sega 2009" on the bottom of the tray.
Because I'm sure few if any of our fellow collectors are familiar with these characters, I've included information directly from wikipedia below which I found very interesting.
Anpanman is a Japanese children's superhero picture book series written by Takashi Yanase, running from 1973 until the author's death in 2013. The series has been adapted into an anime entitled Soreike! Anpanman (Let's Go! Anpanman), which is one of the most popular anime series among young children in Japan. The series follows the adventures of Anpanman, a superhero with an anpan (a red bean paste filled pastry) for a head, who protects the world from an evil anthropomorphic germ named Baikinman.
Heavily merchandised, the Anpanman characters appear on virtually every imaginable children's product in Japan, ranging from clothes and video games to toys and snack foods. The series spawned a short-lived spin-off show featuring one of the popular recurring characters on the show, Omusubiman. Anpanman overtook Hello Kitty as Japan's top-grossing character in 2002, and has remained the country's top-grossing character as of 2019.
In each episode, Anpanman fights with Baikinman and saves people. He goes on daily patrols around the house of Uncle Jam. He is a symbol of justice, fighting for good every day. Anpanman has a long history, and new characters are frequently introduced, keeping the series fresh. In 2009, Anpanman was verified as a Guinness World Record Holder for the highest number of characters in an animated franchise, with a total of 1,768 characters appearing in the first 980 episodes of the TV series and the first 20 films.
Villains
Baikinman

The villain from the "Germ Planet" and is the leader of the Viruses. His Japanese name means "Bacteria Man". His ambition is to destroy Anpanman and spread bacteria all over the latter's world, yet he is perfectly content to play tricks, steal, and bully those weaker than him. He and Anpanman were born at the same time, making them physical representations of moral dualism. He has a weakness to soap, which shrinks him to the size of a fly. He constructs machines and thinks of intricate plans to counteract Anpanman's strength. His two famous phrases are his battle cry, "Ha-hi-hu-he-ho!" (based on the h-row of Japanese kana); and "Bye-baikiiin!", which he utters out whenever he's sent flying by Anpanman or another character.

Dokin-chan (

ドキンちゃん

)

Baikinman's female partner in crime. She is selfish, demanding, childish, and greedy, but sometimes shows kindness, as demonstrated by her crush on Shokupanman. Her Japanese name is a combination of "Doki", the Japanese onomatopoeia for a quickly beating heart, "baikin" (meaning "germ", also the case for Baikinman), and the diminutive/affectionate suffix "-chan". She first appeared in episode 13a. On the English TMS Entertainment website, she was called Spark, however in the English Tubi dub she's called Dokeen