Description: This three-piece set, "Afloat on the Mississippi," was designed and produced by sculpter Rick Wisecarver (1950-2002).
The shakers are two rough and tumble boys, one white and one black, fishing from a raft.

The raft is the tray and has indentations for the shakers.

Each set is signed, dated, and numbered.
Shaker Manufacturer: Rick Wisecarver, designer and producer
Number Manufactured: 400
Convention Theme: Afloat the Mississippi
Convention Location: Memphis, TN
Hosts: Dot & J.C. Gammon and Linda McPherson
Original Price: $30
Per Sylvia Tompkins:
"The 1990 convention set "Afloat on the Mississippi" was designed and produced in several color variations by pottery artist Rick Wisecarver. These variations are primarily in the blue and white clothes. The No.1 set has both boys dressed in medium blue overalls with white shirts. Many other sets have each boy dressed in different color shirts or overalls.
In this time period, the No.1 set was not trimmed in gold, but all 400 sets produced were numbered.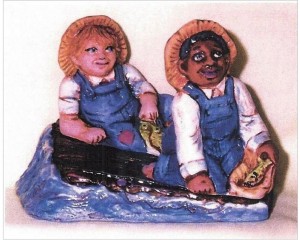 Number 1 set
(sold for $450)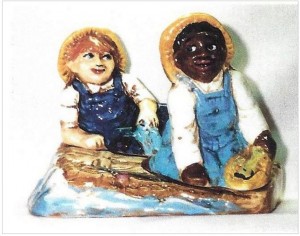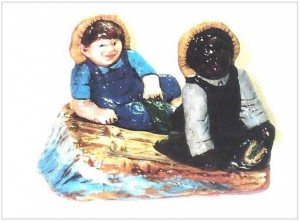 Examples of Color Variations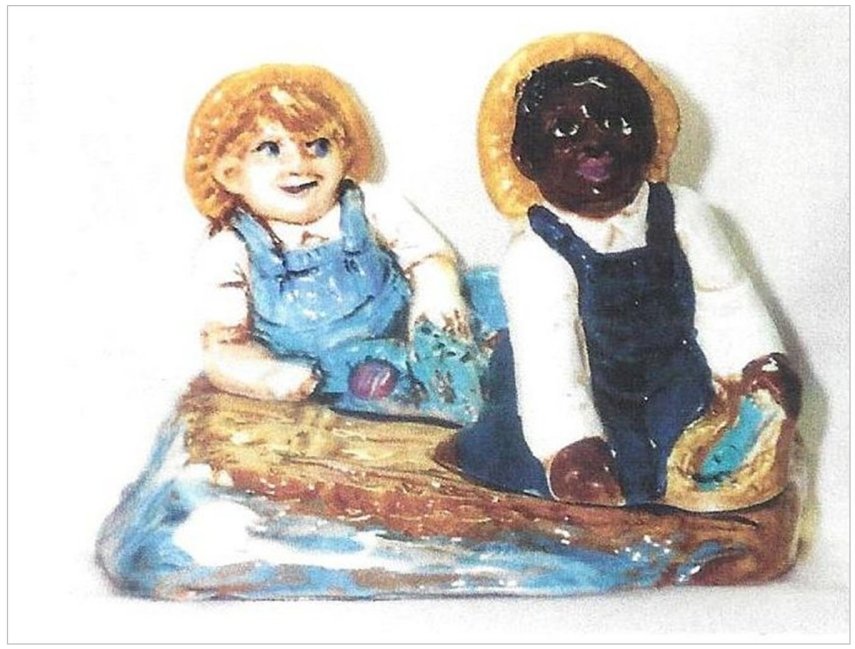 There was an alternate convention set made, the "Gone With the Wind" Scarlett O'Hara and Mammy shakers on a Tara tray, also in several color variations. The convention chair selected the boys on the raft for the convention set.